Remember a few weeks ago, when I posted inspiration for a nautical-themed mirror that I was going to attempt?
No? ha...me neither...it was ages ago...here is the link to
that post
.
Annnyway, I finally finished the project...
and it was not one of those fun, easy diy's that took one blissful afternoon and was well worth the effort...
quite the contrary...it was a pain in the butt. (excuse my french...but it was:)
Here is the mirror before:
BORING...and I don't know about you but I hate those little plastic thingys holding the mirror to the wall...
So first I removed the mirror from the wall, and went to Lowe's to purchase a thin piece of plywood that was a 1/2 inch larger on all four sides than my mirror.
Then, because I wanted to not have a thick piece of plywood, I had to be creative with how to mount it to the wall...(since it was too thin to screw in to)....
So I drilled two small holes in the upper half of the plywood, and fed a piece of wire through it, pulling it taught on the side where I would mount the mirror...
It looked something like this:
Then I set it on the table, and liquid-glued the mirror to it, making sure it was in the center of my plywood...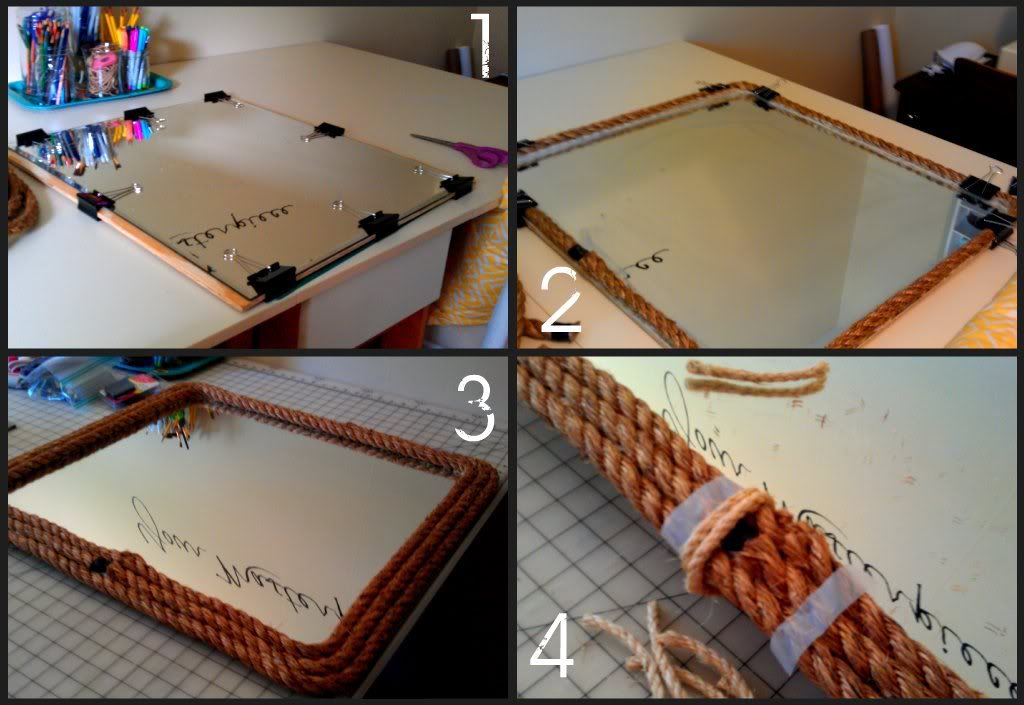 I let that dry for a few days, using giant paperclips to hold it together....
Then I added my rope, starting with what would become my middle strand, using liquid nails again... it was messy and icky, but created a pretty tight seal after letting it dry for another few days with the clips holding it firm...
Then I proceeded with the other two strands, using one to hide the edges of the plywood, and using the other on the inside to hide the edge of the mirror...more liquid nails, and more clipping and drying for this step...
Finally, I added smaller pieces of twine to hide the seams, which I had made sure and put all together on one side. For this step I was able to use a hot glue gun with those yellow glue sticks that are for heavy duty projects like this...I happily and ceremoniously tossed my tube of liquid nails, which was just about empty.
I also added a strip of the twine to the inside perimeter of the frame, to hide all the gunky-ness from the liquid nails that ooozed out...
And voila! my mirror was complete!! After about three agonizing weeks..haha!!
Here it is in our fishing/boating/outdoor-sy themed bathroom that is off of our rustic den (
seen in this post
).
Much better, eh?
The total cost for all the materials came to about $30, which I thought was fairly reasonable, since retailers such as Ballad Designs sell similar mirrors for around $130 buckaroos!!!
Here are some other snapshots of the room:
Ahhhh, another project down, 6,482 left to go..
hehe (not really, it just feels that way sometimes:)
Hope you're all having a great day!
I am linking up to: