I can't believe

Thanksgiving

is here, time is flying by!!
I had wanted to post one of the projects I have been working on earlier this week, but I ended up not getting a chance to finish it until yesterday...just in time for

Thanksgiving

!
I had read somewhere about starting the tradition of having everyone in the family write something that they are thankful for on the tablecloth after

Thanksgiving

dinner, as well as their name and date, and then each year you pull out the same tablecloth and add to it...
Isn't that a beautiful way to remember the blessings in our lives year after year ? and how cool will it be to see your children's handwriting change as they get older=)
I decided to make a

Thanksgiving

table runner instead:
I started by cutting a long narrow piece of canvas from a dropcloth, and adhered lace to the ends using fusible webbing... then I found a great little stencil set from Martha Stewart at the craft store so that I could stencil the following verse down the middle of my runner,

"Give thanks to the Lord, for He is good"...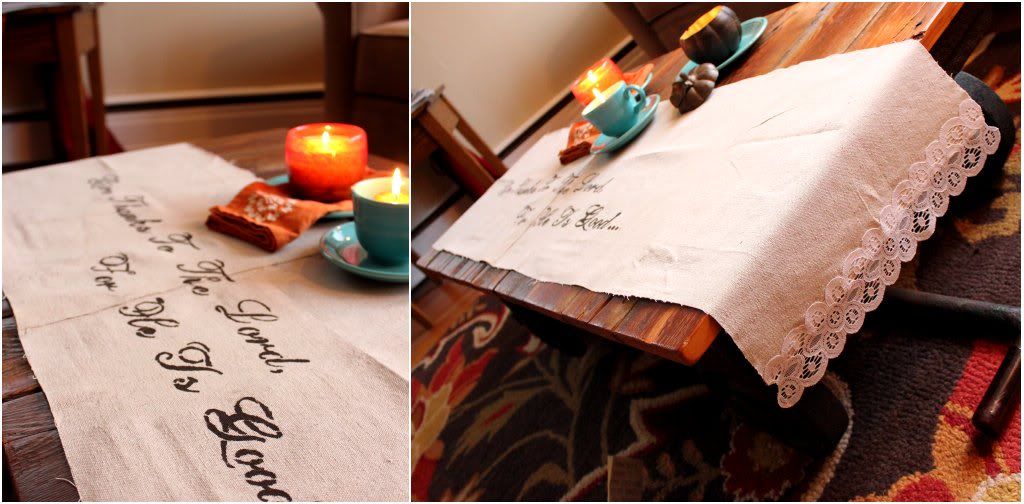 I am so happy with how it turned out! I have it on my coffee table for now...since

Thanksgiving

dinner is at my mom's house...but I can't wait to take it along and start filling it up with all the things we are thankful for!!
I was also responsible for making the pumpkin pies for today... and I was going to leave them plain, but Hunter suggested that I dress them up a little bit=)
I just used my little woodland animal cookie cutters on some extra dough and popped them in the oven on a cookie sheet...and violà!
Anyone else have a fun Thanksgiving tradition that they look forward to year after year? or maybe something new that your trying for the first time?
Hope everyone has a HAPPY THANKSGIVING!!